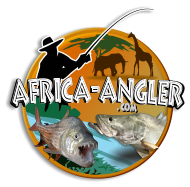 our sister site Amazon Angler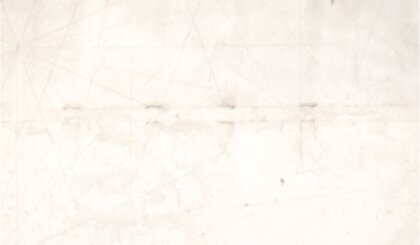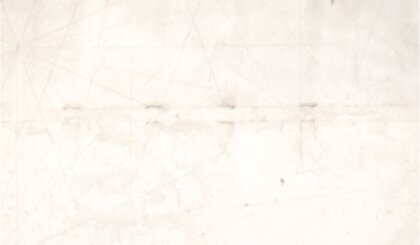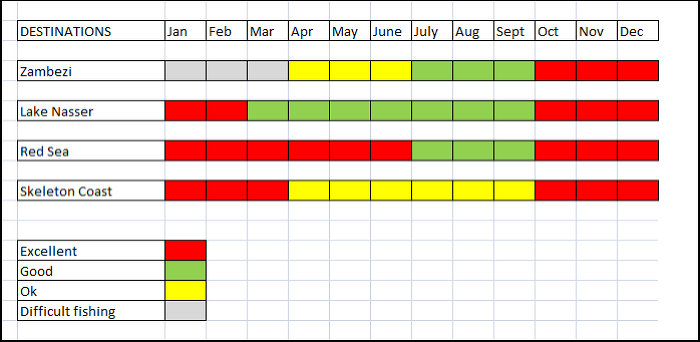 Frequently Asked Questions
Depending on your destination, you will fly into a main international airport in Africa and take another flight to the next town or city nearest to your fishing destination. Charter flights or road transportation are then organised to take you to your final destination.
FREQUENTLY ASKED QUESTIONS
Most African folks are so friendly, fun and lively with a great sense of humour. They really appreciate it when we can get involved with them from the start. Most guides will bend over backwards to help you and make sure you have a trip of a lifetime.
What are the people like?
Most African countries demand a Yellow Fever document to travel with you at all times (it is law in Zambia) and some countries will not allow you entry without one. It is also advisable to have inoculations for Hepatitis and Tetanus. Most areas are Malaria-zones, so it is always advisable to take Malarone or Mefloquine as a precaution in any Malaria.
What health precautions do I need to know about, vaccinations and medication etc.?
We are not in the business of taking you to dangerous places. All our destinations have been chosen for our clients to feel completely safe and looked after in every way. All our camps, boats and lodges are operated by expert and experienced staff and clients are safely secured in any of our destinations.
We have chosen our destinations to coincide with the best possible weather, although tropical storms can occur at any time. Depending on the areas to be fished, most are hot and sunny throughout the day and sultry during the evenings. Most camps, lodges and boats have air conditioning or fans.
What will the weather conditions be like during my stay and what is the best season?
Most of our inland African fishing/safari trips (Zambezi etc.) are absolutely suitable for families, even small kids. Some are aimed more at the hard core anglers, but most welcome kids with open arms. Please send us your inquiries and we will aim you in the right direction.
Lake Nasser is also suitable for wives and kids, but please remember this is fishing in the desert, with no 'home comforts' and a long way from home or most civilisation. The Red Sea is also suitable for wives and kids and they can even stay at the hotel while dad and his mates go off fishing for the day. The Skeleton Coast is fun for all the family, but most wives and kids stay in the 4* resort and swim and take advantage of the hotel amenities.
Can I bring my wife and is our destination suitable for kids?
Africa offers so much for the non-fisherman. In the Zambezi area, there is so much wildlife that no one could possibly be bored. There are so many photographic opportunities and also many other activities to take advantage of that are included in our price.
What about non-fishermen?
Normally there is a phone, satellite phone or radio at each destination. All contact numbers and methods will be supplied on booking.
Can I be contacted in case of emergency?
Once a deposit has been made, we will send you a pre-trip preparation, complete with packing and suggested gear list to take with you.
Can you help me with pre-trip preparation? What clothes should I take? What tackle should I bring?
We have fish species for everyone, from tiger fish and tilapia, to sharks off the coast of Namibia, we have pelagics and reef fish off the Red Sea, we have huge Nile Perch in Egypt's Lake Nasser. For an African fishing adventure, we have it all. Depending on the destination chosen, we can advise on all tackle requirements for each species.
What species will I expect to catch on my trip?
We advise you to take out travel, health and personal insurance for any possible event.
Most countries in Africa require Visas on entry into the country. These are available on entry and paid there and then. Should you wish to get a visa before you enter the country, please contact your nearest visa agency.
Always bring a copy of your passport as you may lose your original. Take your Yellow Fever book with you to each country.
What documentation will I need?
Our associate travel agent will arrange the lot, from all flights, any hotel stays required and even travel insurance.
What about my airline tickets?
Depending where you would like to fish and which species, we can supply you with dates and costs for every trip. Please check each destination and species pages.
What are the availabilities of each trip and the capacity of each group?
In most of our African destinations, English is the main language.
What language is spoken at our destination and how will I communicate with my guide(s).
Most of the cities near our destinations are all fascinating with their own deep-rooted history. All have many great sights and locations to visit. We can arrange these for you. Remember, you are in charge of your flights, although you need to arrive at specific times at the start of your trip.
Can I stay more time for a city tour or other activities?
Most of our destinations are for double or family occupancy but special rates can be arranged for single supplements i.e. single rooms, one angler per boat etc. Please enquire at
How much will it cost me extra for a single supplement and single room?
Average tips are of $20-25 for each day fished for guides and camp staff. Of course if you feel you have been especially taken care of, or you have caught that all important huge fish, and feel you would like to tip anyone with more, please do so. You will make a friend for life!
How much are tips generally to guides and camp/boat staff?
You can stay for as long as you like, although we recommend two weeks as a maximum stay at any of our destinations. Many of our clients get to the end of the week and wish they could stay for longer, while others are tired and want to go home. Special deals can be arranged for any clients who would like an extended trip.
Can I extend my fishing trip by another week?
Africa-Angler.com | African Fishing Trips - Extreme Adventure Fishing
All information above is true & accurate to the best of The Fish Finders Ltd's knowledge and belief
View our Terms & Conditions
Website Design by Qi Marketing


RED SEA:
October – June is best for fishing here. In general, winter months are fairly cool and summer months are very hot.
THE SKELETON COAST:
The high season is from the beginning of October to the end of March. During this time all local fish species are also in abundance, including sharks, kob, steen bras etc. The main target species during high season is the Bronze Shark. Normally Bronze sharks tend to move to deeper waters between April and September, although several Bronzies have been landed during this time.
THE ZAMBEZI:
April, May and June: This period represents a shoulder season between the preceding green season and the upcoming dry season. April can still see a good number of days with cloudy skies and some considerable rain showers, although they should be more sporadic than in the preceding months. During the course of May the rains should abate almost completely. As the dry winter months arrive, so the temperatures fall. The mean daytime temperature remains at a very respectable 25C, but at night the mean temperature falls to a chilly 6C, with a distinct possibility of occasional frosts. But average sunshine hours remain gloriously high and the chill of morning is usually quickly burnt away. Tiger fishing is sporadic during this time and most fish are caught on bait, as the water is still coloured.
July, August, September and October: This period represents the main dry season, traditionally the main period for visiting the valley. There should be virtually no rainfall during the whole of this period. The main weather story is the gradual increase in temperatures from the cool of winter to the hot, dry months before the breaking of the short rains. In July the mean maximum is around a comfortable 26C, but the mean minimum drops to 6C, giving the possibility of occasional frosts. Over the months, temperatures climb steadily into October, when the mean maximum reaches a heady 34C and the mean minimum 18C. Peak daytime temperatures can easily exceed 40C, leading to this being known as the 'suicide month'. In reality conditions for much of October are far from being unbearable and the month is still considered to be a prime time to be on safari. Only as the humidity climbs in advance of the rains breaking does it start to become significantly uncomfortable.
How Does The Weather Affect This Fishing?
During July the trees start to lose their leaves and buffalo herds start to arrive along the river in force. Tiger fish bite well.

During August the waterholes really start to dry out and game becomes thick along the river. Tiger fish bite well. Skies start to get hazy from dust and from bushfires in the hills. The flame creeper comes into flower, providing bright red canopies in the acacia trees.

During September the game thumps, tiger fish are biting in earnest and the carmine bee-eaters start to roost along the riverbanks.

During October new leaves start to show on the trees. Game is solid along the river and tiger fishing is at its peak. Clouds start to build with the threat of rain, temperatures climb and the air begins to clear. Warthogs give birth.
November and December: This period represents a shoulder season between the preceding dry season and the upcoming green season. Late October and the first half of November can be the hottest time of the year in Lower Zambezi. The mean maximum temperature of 34C is only indicative of peak daytime temperatures, which are often in excess of 40C. This is not so much of an issue whilst the dry season continues, but as the rains approach and humidities rise, so the valley starts to become rather uncomfortable. However these elevated levels of discomfort start to subside as sufficient rain starts to cool the land and by the middle of December conditions are usually much improved. As soon as there is sufficient rainfall to start filling seasonal waterholes away from the main river system, so the game starts to disperse into the hinterland. Game viewing along the river therefore falls away from its dry season densities, although should remain pretty good and it is nice to see the animals enjoying the freshness of their surrounding after the harshness of the long dry season. Being the early part of the wet season, grasses have not yet had time to grow to full height, so the game remains reasonably visible. During November impala start to drop their young and migrant birds start to return, notably cuckoos and storks. Tiger fishing remains good until the rains properly break.
January, February and March: This period is known as the green season and most if not all lodges are closed. With mean maximums around 30C and mean minimums around 18C, temperatures are not an issue at this time. Elevated levels of humidity may be a little uncomfortable at times, but should be nothing compared with the conditions in late October and early November. The main issue is rain, with all four of these months taking their fair share, although gradually reducing as the weeks pass. With the average number of rainy days per month peaking at 15, it is clear that there should be plenty of good clear weather in between, but dramatic storms and lighter showers are not usually too far away. We do not recommend this time for fishing or game viewing.
*In general, we would suggest a fishing/safari trip between the months of July through to early December, with the best months to combine both fishing and game viewing to be July - October inclusive. The water is normally really clear and the tiger fish and other species are on the hunt all day.
LAKE NASSER:
Seasons are divided into two, summer and winter (in the Northern hemisphere).
Summer season: From March to the end of September, Nile Perch are found in shallower water. This is due to their prey (mainly Tilapia) spawn at that time and with tons of Tilapia fry Perch hunt them with ferocity in water from 2m-6m deep. This is the best time of the year for shore and fly-fishing. Trolling provides good sport using shallower lures nearer the rock edges and islands. There are still a lot of big Nile Perch around but they tend to be less concentrated than during winter season. Days are still hot and evenings balmy. August and September can be very hot.
Winter season: From October until the end of February, the lake is at its highest level and the Nile Perch are found in much deeper water. Larger Nile Perch are feeding heavily in readiness for spawning which happens around January/February time. Year after year bigger fish are caught during this season and most are caught trolling over underwater mounts, islands etc. Apart from in October, this is not the best time for fly-fishing and fishing from the shore.
In general, while the winter season will catch you bigger specimens, the summer season is where you will find much more action with a larger number of fish, albeit smaller overall. Large fish can still be caught during this time, but most are generally smaller. When we talk about smaller Nile Perch, we mean fish between 8kg and 15kg, while the larger Perch grow to 100kg+. Please remember that the months of April/May – November/December are high season and get booked up months in advance.